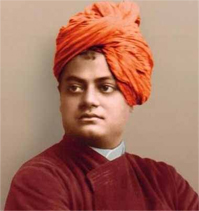 Real role models are individuals who own the traits that we would be keen on possessing ourselves. My Role Model is Swami Vivekananda as he has inspired me to a better individual.
He was the foremost spiritual head in India to appreciate and honestly speak out that the true ground of our country's downfall was the inattention towards the lots. There was a strong call to make available food and other basic provisions of life to the starving millions.
Swami Vivekananda was intensely motivated to see the awful deficiency of the people in India. He then concluded that people here required knowledge to develop their financial condition and instill in them self confidence. To achieve this people need to be made aware of superior technique of farming.
Human beings are blessed with endless potential. All which appear impractical at a moment transform into an opportunity by some exceptional attempt. The fundamental cause of all problems and suffering is lack of knowledge. Remember, we all are powerful and brilliant. All we need is to be aware and stimulate the strength in us.
The history has repeatedly witnessed the collapse of nations and the period of domination and slavery for the reason that they were not ignorant of their skill to grow. Swami Vivekananda grabbed the root of the difficulty of insufficiency in India and through his teachings; he infused in the masses the power of self-confidence. Swamiji educated Indians in acquiring a complete understanding of Western science and technology and simultaneously build up religiously.
Swamiji was an inspiring and a realistic leader. Swamiji has also familiarized Indians to acclimatize Western humanism to Indian culture. Personality crafts a person. An individual with clean and unquestionable personality is precious than a person with wealth but no personality.