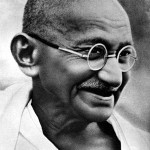 I inspire to pursue Gandhi ji's methods for the reason that he never declared to be a hero or a super human. He took the blame of his mistakes and never laid the blame on any other person. His modesty and intensity of appreciating the plain actions has made him the "Mahatma". Mahatma Gandhi is among those distinguished men who outlined the freedom struggle for our country. He is among the person who let go his own life for his country. Gandhi ji was born on 2nd October at Porbandar situated in Gujarat. His role in the fight for freedom of the country deserves a standing ovation.
Similar to the other famous men in history, Gandhi ji worked out his system to make sure that his acts made an impact towards betterment of the country. His trust in diverse religions was praiseworthy. He paid attention to the tradition of Christianity with the same trust and devotion as that of the Hindu scriptures. He was sincere and truthful and this helped him right through his life.
Mohandas Gandhi's standing as the Indian religious and political leader who synchronized and showed the way to a victorious national fight for independence in opposition to British imperial rule resorting to a non-violent movement continue to exist undamaged. On returning from South Africa, Mahatma Gandhi took charge of and completely altered the Indian nationalist movement. This led to the three immensely accepted movements that ultimately corroded the British government and showed the way to Indian independence.
Today, we all recognize the value of the respect that he is worthy of. According to Gandhiji ahimsa was the manifestation of the genuine love for all souls, counting one's enemy. The non-violence implied absence of physical harm as well as the feeling of hatred towards the fellow human beings. Gandhi strongly held that if aggression was employed to accomplish any goal, the only consequence would be further violence.
Mohandas Karamchand Gandhi is commonly renowned as single twentieth century's most popular political and religious leaders. While conducting the countrywide movements to relieve hardship, extend women's rights, and develop spiritual and cultural unity, Gandhi ji absolutely followed the path of non-violence. Mahatma Gandhi performed a major role in India's struggle for Independence and his goal was achieved in the year 1947 when our country finally got freedom from foreign dominance.